My Blog
Posts for: January, 2019
By Nathan Gelder DMD
January 19, 2019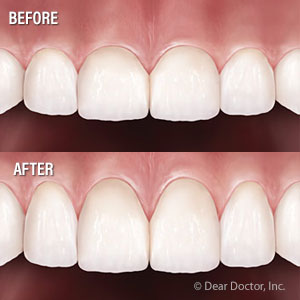 While tooth decay is a potential problem at any age, the risk increases as you grow older. Not only are senior adults more susceptible, decay is often more difficult to treat. That's because cavities can occur at or below the gum line, often due to gum recession.
If that's the case, we won't be able to fill the cavity in the usual way because the gum tissue is in the way. To make it possible to treat, we may need to perform a minor surgical procedure known as crown lengthening.
As the name implies, the procedure helps expose more of the crown, the tooth's visible part, from the surrounding gum tissue. In basic terms, we're repositioning the gum tissue away from the biting surface of a tooth to make room for a filling. It's also useful for improving a tooth's appearance by making it look longer, or creating room for a crown or other dental restoration.
After applying a local anesthesia, the dentist (or periodontist, a specialist in the gums) creates a tiny flap of gum tissue with a series of incisions. This allows the dentist to move the affected gums out of the way to access the underlying bone. The dentist then reshapes the bone to adequately support the gum tissue when it's finally repositioned to expose the crown. In its new and improved position, the dentist sutures the gum tissue in place.
For a few days afterward, the patient will need to restrict their diet to soft foods, avoid strenuous activities and apply an ice pack to help reduce swelling the day of surgery. They will also prescribe a pain reliever and possibly an antibiotic to reduce the chances of infection.
While most people return to normal activities a few days later, you'll usually have to wait a few weeks for the gums to heal before undergoing any further treatments for the affected teeth. But even with the wait, crown lengthening could make it possible to not only save your tooth but improve your smile as well.
If you would like more information on treating tooth decay, please contact us or schedule an appointment for a consultation. You can also learn more about this topic by reading the Dear Doctor magazine article "Crown Lengthening: This Common Surgical Procedure Restores Function and Improves Appearance."
By Nathan Gelder DMD
January 09, 2019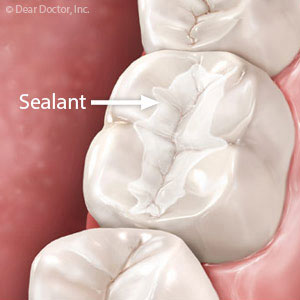 A baby's teeth begin coming in just a few months after birth—first one or two in the front, and then gradually the rest of them over the next couple of years. We often refer to these primary teeth as deciduous—just like trees of the same description that shed their leaves, a child's primary teeth will all be gone by around puberty.
It's easy to think of them as "minor league," while permanent teeth are the real superstars. But although they don't last long, primary teeth play a big role in a person's dental health well into their adult years.
Primary teeth serve two needs for a child: enabling them to eat, speak and smile in the present; but more importantly, helping to guide the developing permanent teeth to erupt properly in the future. Without them, permanent teeth can come in misaligned, affecting dental function and appearance and increasing future treatment costs.
That's why we consider protecting primary teeth from decay a necessity for the sake of future dental health. Decay poses a real threat for children, especially an aggressive form known as early childhood caries (ECC). ECC can quickly decimate primary teeth because of their thinner enamel.
There are ways you can help reduce the chances of ECC in your child's teeth. Don't allow them to drink throughout the day or to go to sleep at night with a bottle or "Sippy" cup filled with milk, formula, or even juice. These liquids can contain sugars and acids that erode enamel and accelerate decay. You should also avoid sharing eating utensils with a baby or even kissing them on the mouth to avoid the transfer of disease-causing bacteria.
And even before teeth appear, start cleaning their gums with a clean, wet cloth right after feeding. After teeth appear, begin brushing and flossing to reduce plaque, the main trigger for tooth decay. And you should also begin regular dental visits no later than their first birthday. Besides teeth cleanings and checkups for decay, your dentist has a number of measures like sealants or topical fluoride to protect at-risk teeth from disease.
Helping primary teeth survive to their full lifespan is an important goal in pediatric dentistry. It's the best strategy for having healthy permanent teeth and a bright dental health future.
If you would like more information on tooth decay in children, please contact us or schedule an appointment for a consultation. You can also learn more about this topic by reading the Dear Doctor magazine article "Do Babies Get Tooth Decay?"