My Blog
Posts for: November, 2018
By Nathan Gelder DMD
November 20, 2018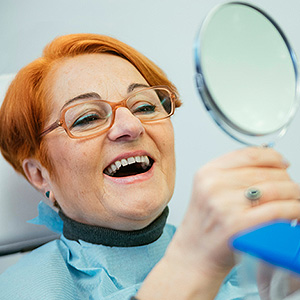 Edentulism, the loss of all of a person's teeth, is more than an appearance problem. As one in four Americans over 65 can attest, total tooth loss can lead to emotional suffering, social embarrassment and a lack of nutrition caused by limited food choices.
But there are solutions like the removable denture, an effective dental restoration for more than a century. In its current advanced form, the removable denture is truly a functional, affordable and attractive way to restore lost teeth.
Creating an effective denture begins first by taking detailed impressions of a patient's gum ridges. We use the measurements obtained from this process to create a plastic resin base colored to resemble the natural gums.  Using old photos and other resources documenting how the patient looked with teeth, we choose the best size and shape of porcelain teeth and then position them onto the base.
Finally, we fine-tune the dentures the first time they're in the patient's mouth to make sure they have a secure fit and a balanced bite when the jaws come together. We also want to be sure the dentures are attractive and blend well with other facial features. The result:  a new set of teeth that can do the job of the old ones and look nearly as real and attractive.
Dentures, though, do have one major drawback: they can't stop bone loss, a common consequence of missing teeth. In fact, they may even accelerate bone loss due to the pressure they bring to bear on the gum ridges. Continuing bone loss could eventually cause their once secure fit to slacken, making them less functional and much more uncomfortable to wear.
But a recent innovation could put the brakes on bone loss for a denture wearer. By incorporating small implants imbedded at various places along the gums, a denture with compatible fittings connects securely with the implants to support the denture rather than the gum ridges. This not only relieves pressure on the gums, but the titanium within the implants attracts bone cells and stimulates their growth.
Thanks to this and other modern advances, dentures continue to be a solid choice for tooth replacement. Not only can they restore a lost smile, they can improve overall health and well-being too.
If you would like more information on dental restorations for missing teeth, please contact us or schedule an appointment for a consultation. You can also learn more about this topic by reading the Dear Doctor magazine article "Removable Full Dentures."
By Nathan Gelder DMD
November 10, 2018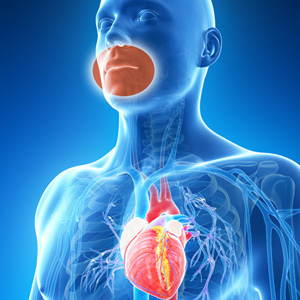 Cardiovascular disease and periodontal (gum) disease are two different conditions with their own set of symptoms and outcomes. But they do share one common element: inflammation. In fact, this otherwise normal defensive response of the body might actually create a link between them.
When tissues become damaged from disease or injury, the body triggers inflammation to isolate them from the rest of the body. This allows these tissues to heal without affecting other tissues. If inflammation becomes chronic, however, it can damage rather than protect the body.
This happens with both cardiovascular disease and gum disease. In the former, low-density lipoproteins (LDL or "bad cholesterol") in animal fat leave behind remnants that can build up within arteries. This stimulates inflammation of the vessel's inner linings, which accelerates hardening and increases the risk of heart attack or stroke.
With gum disease, bacteria living in a thin, built-up film of food particles on the teeth called plaque infect the gum tissues, which in turn trigger inflammation. A struggle ensures between the infection and inflammation, causing the gum tissues to weaken and detach from the teeth. Coupled with erosion of the supporting bone, the risk of tooth loss dramatically increases.
Recent research now seems to indicate the inflammatory responses from these two diseases may not occur in isolation. There is evidence that gum inflammation could aggravate inflammation in the cardiovascular system, and vice-versa. The research, though, points to some possible good news: treating inflammation in either disease could have a positive effect on the other.
Making heart-friendly lifestyle changes like losing extra weight (especially around the waist), improving nutrition, and exercising regularly can help reduce LDL and lower the risk of arterial inflammation. Likewise for your gums, daily oral hygiene and visiting the dentist at least twice a year reduces the risk for gum disease. And at the first sign of a gum infection—swollen, reddened or bleeding gums—seeking immediate treatment will stop it and reduce any occurring inflammation.
Taking steps to prevent or reduce inflammation brought on by both of these diseases could improve your health and save your life.
If you would like more information on how your oral health affects your whole body, please contact us or schedule an appointment for a consultation. You can also learn more about this topic by reading the Dear Doctor magazine article "The Link between Heart & Gum Disease."