My Blog
Posts for: April, 2018
By Nathan Gelder DMD
April 24, 2018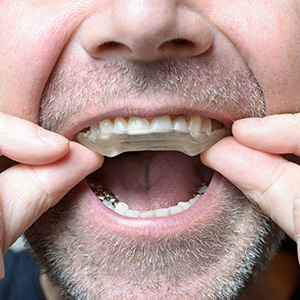 Lots of people don't know that April is National Stress Awareness Month; don't fret if you're one of them. For many, stress is already a common feature of everyday life. According to the American Psychological Association, 62% of Americans are stressed at their jobs, and stress has been estimated to cause the loss of some 275 million working days every year.
In addition to its other negative physical and mental consequences, stress can also spell trouble for your oral health. It may lead to the problems of teeth clenching and grinding, which dentists call bruxism. A habitual behavior that can occur in the daytime or at night, bruxism is thought to affect perhaps one in ten adults. While the evidence that stress causes bruxism is not conclusive, there's a strong case for the linkage.
Bruxism sometimes causes symptoms like headaches, soreness or pain in the jaw muscles or joints, and problems with fully opening the mouth. It can be detected in the dental office by excessive tooth wear, and/or damage to tooth surfaces or dental work. Grinding or tapping noises heard at night may indicate that someone is grinding their teeth while sleeping. In children, nighttime bruxism is common and not necessarily a reason for concern; in adults, it may be more troubling.
So what can you do if you're experiencing this problem? If you find yourself clenching and grinding during the daytime, simply becoming more aware of the behavior and trying to limit it can help. A bit of clenching during times of stress isn't abnormal, but excessive grinding may be reason for concern. Many of the same techniques used to relieve stress in other situations—such as taking a step back, talking out your issues, and creating a calmer and more soothing environment—may prove helpful here as well.
Occasionally, prescription drugs may cause bruxism as an unwanted side effect; in this case, a medical professional may recommend changing your medication. The use of stimulants like coffee and mood altering substances like alcohol and illicit drugs have also been associated with teeth grinding—so if you're having this issue, consider foregoing these substances and making healthier lifestyle choices.
There are also a number of dental treatments that can help protect your teeth from excessive grinding. The most common is an occlusal guard or "night guard." This is a custom-fabricated appliance made of plastic that fits comfortably over your teeth. Usually worn at night, it keeps your teeth from actually coming into contact with each other and being damaged. Occasionally, additional treatments such as bite adjustment or orthodontics may be recommended to help solve the problem.
If you would like more information about teeth clenching and grinding, please call our office to schedule a consultation. You can learn more in the Dear Doctor magazine articles "Teeth Grinding" and "When Children Grind Their Teeth."
By Nathan Gelder DMD
April 14, 2018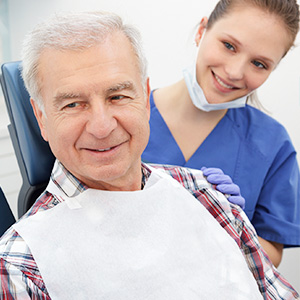 Dental implants are best known as restorations for single missing teeth. But there's more to them than that—they can also be used to support and secure removable dentures or fixed bridges.
That's because a dental implant is actually a root replacement. A threaded titanium post is inserted directly into the jawbone where, over time, bone cells grow and adhere to it. This accumulated bone growth gives the implant its signature durability and contributes to its long-term success rate (95%-plus after ten years). It can support a single attached crown, or serve as an attachment point for a dental bridge or a connector for a removable denture.
The method and design of implants differentiates it from other restoration options. And there's one other difference—implants require a minor surgical procedure to insert them into the jawbone.
While this might give you pause, implant surgery is no more complicated than a surgical tooth extraction. In most cases we can perform the procedure using local anesthesia (you'll be awake the entire time) coupled with sedatives (if you have bouts of anxiety) to help you relax.
We first access the bone through small incisions in the gums and then create a small channel or hole in it. A surgical guide that fits over the teeth may be used to help pinpoint the exact location for the implant.
We then use a drilling sequence to progressively increase the size of the channel until it matches the implant size and shape. We're then ready to insert the implant, which we remove at this time from its sterile packaging. We may then take a few x-rays to ensure the implant is in the right position, followed by closing the gums with sutures.
There may be a little discomfort for that day, but most patients can manage it with over-the-counter pain relievers like aspirin or ibuprofen. It's what goes on over the next few weeks that's of prime importance as the bone grows and adheres to the implant. Once they're fully integrated, we're ready to move to the next step of affixing your crown, bridge or denture to gain what you've waited so long for—your new implant-supported smile.
If you would like more information on dental implants, please contact us or schedule an appointment for a consultation. You can also learn more about this topic by reading the Dear Doctor magazine article "Dental Implant Surgery: What to Expect Before, During and After."